L&M Healthcare Living Wall Project
L&M Healthcare is a specialist in providing purpose-built nursing homes that offer personalised general nursing and dementia care. They operate a network of nursing homes throughout the Northwest focusing on providing expert care in a luxurious home-from-home environment.
Their surroundings are more like a five-star hotel than a nursing home and are engaging, empathetic and welcoming. They currently operate 5 homes in the Northwest with a sixth due to open in 2019.
Winner of Art Installation of the Year at the Design in Mental Health Awards 2018, L&M Healthcare's Living Wall is more than an art installation.
It's one thing to have items of beauty decorating your walls and making a home look and feel like it is five-star luxury. But something absolutely magical happens when a work of art can form part of everyday life and make our residents experience happiness and calm even if that is momentarily. That is what we have achieved with our Living Wall and that's why judges declared it Art Installation of the Year.
The Living Wall, which forms part of the dementia suite at Whittle Hall in Warrington, is an interactive, soft sculptured, sensory wall art installation that involves sight, sound, touch and smell to reduce feelings of anxiety, frustration and isolation through daily group activities creating a pathway to communication.
As well as being beautiful to look at, having an element of fun and being wonderful to touch, this art installation has been designed to promote happiness and enjoyment for residents living with dementia and it also encourages activities such as singing and music.
Beside the Living Wall are beautifully designed beach hut style seats and other seaside memorabilia such as beach bags and sun hats where residents can absorb the sounds and smells of the seaside and at the same time get to eat fish and chips or an ice-cream. So when not in use it is beautiful wall art, but when in use the art form starts work and becomes a three-dimensional part of our everyday therapy.
I chose to work with Little Islands because they share my vision for innovation and appreciation of good design. We worked closely together to ensure content, colours and fabrics were practical, had removable elements to facilitate cleaning after heavy use and met with fire, health and safety standards as well as looking and feeling good.  Everyone involved and indeed everyone who has seen it since falls in love with it and wants to engage with it straight away.
April Roberts, Little Island's creative director created the concept. After spending a lot of time in the company of people living with dementia it became apparent that reminiscing about old times, especially holidays was their favourite subject by far. They were happy times for all, and back then it was the British seaside where everyone flocked to in the summer. From going to the seaside as a child, to being a parent and taking their children and even as a grandparent, all generations made the seaside their main holiday and created many happy memories.  So, she decided on the seaside theme, a theme everyone could relate to, to help bring their memories flooding back.
When creating the wall she thought about how people would feel and respond to it and wrote a story about an individual she called Frank and how he would feel when taken to a familiar place full of joy and fewer feelings of isolation and this is his story…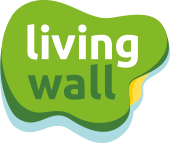 Info
Client : L&M Healthcare
Website : lmhealthcare.co.uk
Theme : Seaside
Time to complete : 2 months
Awards
Design in Mental Health Awards:
Art Installation of the Year 2018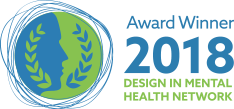 My name is Frank…. I am sat in an unfamiliar room, well I can't remember being here before. People are looking at me – don't know who they are. A lady in a uniform keeps approaching me asking if I'm alright? I don't know if I'm alright, I feel a bit tense. She's saying that I live here, this is my home…. is it?
Who am I? Nothing's familiar, I feel abit agitated now because I still can't remember……
I hear a familiar song or is it music in the background, it makes me smile, the lady is coming over again, she gently holds my hand and tells me that her name is Betty, that sounds familiar. Betty has got me up on my feet now and she's leading me into another room….
The door opens, that smell! I know that smell, its fish and chips! I love the smell of fish and chips, it reminds me of Blackpool, sat on the front eating fish and chips out of newspaper.
By 'eck! There's Blackpool tower!
I am sat down now in a really comfy seat. Betty is taking my shoes and socks off??? ofcourse, you can't walk in the sand in your shoes. That feels good, the coolness of the sand in-between my toes, the sun on my face, I feel like my spirits have been lifted. I'm making a sand castle with my bucket and spade now.
I can see more children playing in the sea, oh, and a donkey has just walked past! That reminds me of an old joke….
'What do Blackpool donkeys get for dinner?'
"About half an hour!!!!"
Eee, them were the days…..
I can smell ice cream now, I used to love old fashioned vanilla ice cream. Ah Betty has just given me one, that tastes good……
Watch out for seagulls!
Walking along the promenade now look, there's Punch and Judy! I can see the band stand on the pier. Hear open-top trams going past, the smell of cigarette smoke drifting by. The band is getting louder….
On t' Charabanc now to take us to the Pleasure Beach I'm excited. I hear lots of screaming and shouting; everyone's happy!
Betty has just given me a handful of money, farthings and shillings, that half-crown feels really big in my hand.
Walters first!……
I feel jiggered now!
It's turning really dark, I need to rest for a little while….
The 'Bright Lights' Variety shows, 'The Roly Polys' and 'Show girls', what's that song in the background?
Hmmm… Betty starts to hum along to the song…..'Oh I do like to be beside …..'
L&M Healthcare work very hard to provide their residents with the best possible all-encompassing care strategy that is person centred and ensure their residents are engaged and stimulated with events and activities. They see the Living Wall as part of the overall successes they have had in their dementia household and believe it was one of those investments that was truly worthwhile and something to be proud of.
We design, manufacture by hand and install every product we produce and we train your staff on how to get the most out of it. So we can absolutely guarantee that every Little Islands will be perfect for your home and your residents.
To find out more call
0800 093 8499